| | | | |
| --- | --- | --- | --- |
| | | Miata Reunion Social Kickoff, Live music from 7pm til midnight | |
| | | PRE-EVENT CHECK-IN & REGISTRATION | EVENT HOTEL: HAMPTON INN LEEDS |
| | | | |
| --- | --- | --- | --- |
| | | | |
| | | MANDATORY Track Drivers meeting (all TRACK DAY drivers) | Outside Event Central, Paddock |
| | | Check-in/Registration at the track | |
| | | Drivers Meeting: Jzilla Car Control Clinic Drivers | |
| | | Morning Sessions: Track Day | |
| | | Morning Sessions: Jzilla Car Control Clinic | |
| | | Flyin Miata G-Force Challenge | |
| | | Vendor Alley and Club Corrals Open | Vendor Alley, Main Paddock |
| | | | |
| | | | Car Show Corral adjacent to Clubs Village |
| | | Tom Matano & Norman Garrett Autograph signing session | |
| | | Group Photo/Video, Parade Laps during lunch hour | |
| | | Afternoon Sessions: Track Day | |
| | | Drivers Meeting: Jzilla Car Control Clinic drivers | |
| | | Afternoon Sessions: Jzilla Car Control Clinic | |
| | | | |
| | | | |
| --- | --- | --- | --- |
| | | Open Sunday. EVERYONE MUST DEPART THE TRACK NO LATER THAN 7pm | |
| | | MANDATORY Track Drivers meeting (all TRACK DAY drivers) | Outside Event Central, Paddock |
| | | Check-in/Registration open | |
| | | Morning Sessions: Track Day | |
| | | | |
| | | Vendor Alley and Club Corrals Open | Vendor Alley, Main Paddock |
| | | Tom Matano & Norman Garrett Autograph Signing | |
| | | | Barber Museum Parking Lot |
| | | | Barber Museum Parking Lot |
| | | Norman Garrett Miata Tech Seminar | |
| | | Lunch Break: NO ENGINES RUNNING | |
| | | Afternoon Sessions: Track Day | |
BARBER EVENT FACILITY MAPS
View the locations of all the specific on-site events and amenities including parking, camping and restrooms. (Click to enlarge)
Main Event Hotel:
Hampton Inn & Suites Leeds
(CLICK HERE for reservation link)

For other hotel options near the track
CLICK HERE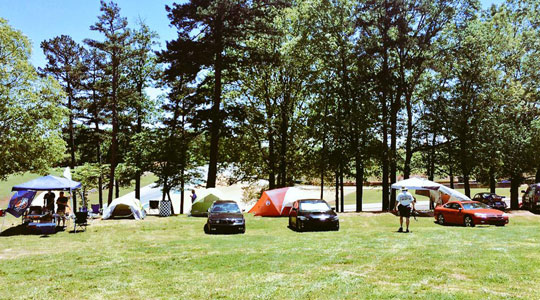 Camping will be allowed in the paddock for both Friday and Saturday nights at the Miata Reunion, as long as you show your event wristband at the gate and have a permit to display.  The facilities are excellent, and include warm showers and clean restrooms. 
Camping permits are required, and will cost only $20 for the entire weekend, a 50% discount off of regular camping rates.
(

Click here
 for Barber Motorsports Park Camping Rules and Regulations.)

Discounted Miata Reunion Weekend Camping permits can be purchased on-line as part of your Track Day or General Admission registration, or you can purchase from Event Central at the event.
PLEASE NOTE: You can enter the track to go set up your camping spot after 5:30pm on Friday, however security will not allow you through the gates without your event wristband, so be sure to check in at the Hampton Inn Leeds on Friday 3pm and 8pm.
Please pick up your permit as part of early check-in on Friday at the Event Hotel, or on Saturday from Event Central.
We must vacate the track by 7pm on Sunday, so no camping Sunday night.
Electrical hookups must be booked directly with the track at the front gate.
Link up with fellow Miata enthusiasts!