WHAT'S INCLUDED?
Presentations/Panel Discussion with the Core Original Miata Design Team, and:
HPDE TRACK DAY PASSENGER RIDES
MIATA REUNION
GROUP PHOTO/VIDEO
FRIDAY AFTERNOON/EVENING AT THE TRACK
Click on the red "REGISTER" button at the top right
of the page & follow the prompts for General Admission.

There are unlimited General Admission tickets available.

Benefitting Speedway Children's Charities of Sonoma
This year we've asked our Sponsors and Vendors to provide us with some cool items for a raffle, with all proceeds going to Speedway Children's Charities of Sonoma.
Each ticket will be in two parts, so you can put one part of your ticket into the "ballot box" for the item you'd like to win, and keep your stub for the drawing.
Ballot boxes will be next to the item (or images of the item) in the Sponsor/Vendor booth, so you can view each Big Raffle item on prominent display in the Sponsor or Vendor's booth and actually see what item you're "bidding" on.
We'll hold the Big Raffle drawing in front of Event Central at 5:45pm on Saturday (must be present to win). The Sponsor or Vendor who donated the prize will be the actual one to draw the ticket, so people will receive their prize and get a photo with the donating Sponsor or Vendor.
PRIZES:
Miata Reunion is donating one HPDE Track Day for next year (your choice of run group, either Saturday or Sunday.)
Flyin' Miata: A set of their exclusive Kogeki wheels, in the form of a certificate on-site, and shipping the winner's appropriate chosen wheels.
Moss Miata: A set of their Cobalt Frame Rail Braces.
SuperMiata: Shift knobs; custom wheel lugs (16 or 20, depending on car year); SuperMiata Hoodies; Steering wheel extender
Goodwin Racing: Two $50 gift certificates
Hartz Corporation: A Deluxe Soft Top Cleaning Kit
AWR: A gift card & merchandise pack, so the winner can pick an item that best suits their application (NA – ND).
Burst Craft: a certificate to their web store for $75 and a Burst/RevLimiter horn button
Gutentight Racing: A Gutentight Racing Shirt, a set of door bushings for and a hard top security kit.
KenAuto: Total of 3 sets of Ken Auto T-shirts, Ken Auto towel, and "TAIKAN" door bushings (total 3 items per set)
Lesher Motorsports: ACT Clutch kit, retail value $475.00
Don't miss out!!
Reserve your accommodation ASAP!  The official Event Hotel is Four Points Sheraton, San Rafael, where we have a negotiated discounted room block that includes free breakfast, wifi and parking (click here to book).  Rooms are likely to go quickly, so be sure to book early.   

Camping is also available at the track.  See camping info.
Want to form a caravan to the event with a group of friends? There will be groups forming from all over North America, including from Canada and Mexico. Check out Supporting Clubs & Organizations on the home page to connect with local Miata enthusiasts.
Check out all the other things you can do as part of the event, such as the Flyin' Miata AutoX Challenge, Parade Laps, Group Photo, Moss Miata Car Show, BAMA Sunday Cruise and Saturday Party. If you're going for Track Day ride-alongs, make sure to wear long pants and closed-toed shoes for your safety, and borrow or bring an approved helmet, as helmets are not provided by the event.
We STRONGLY recommend getting checked in on Friday, October 20th at the track!
General Admission/Merchandise will be open all day Saturday and Sunday in Event Central at the track, but checking in on Friday eliminates time pressure. Your General Admission wristband also speeds up entry through the main gates at the track, as you can just show security your wristband for entry without having to stop to sign event waivers each time.
FLYIN' MIATA AUTOX CHALLENGE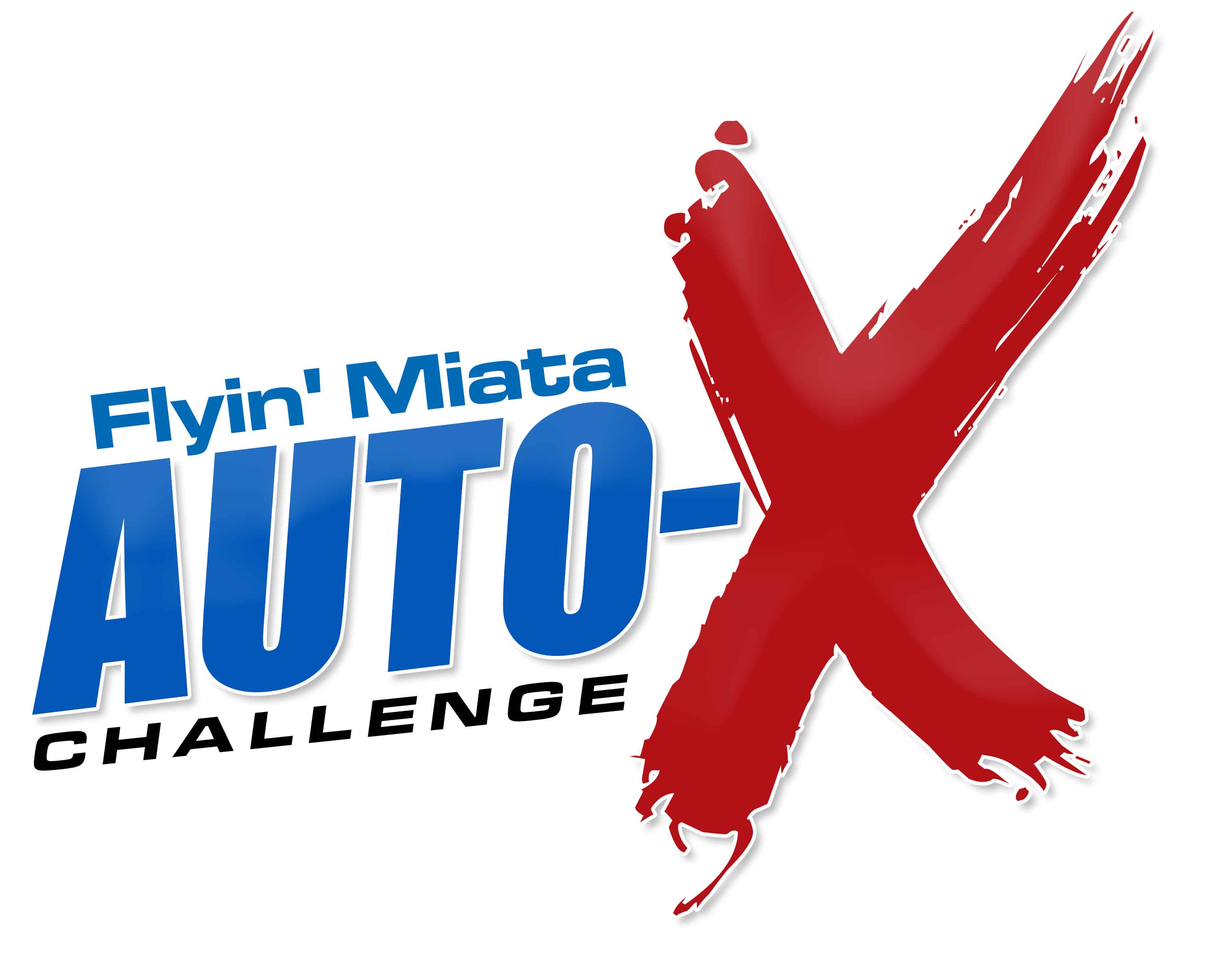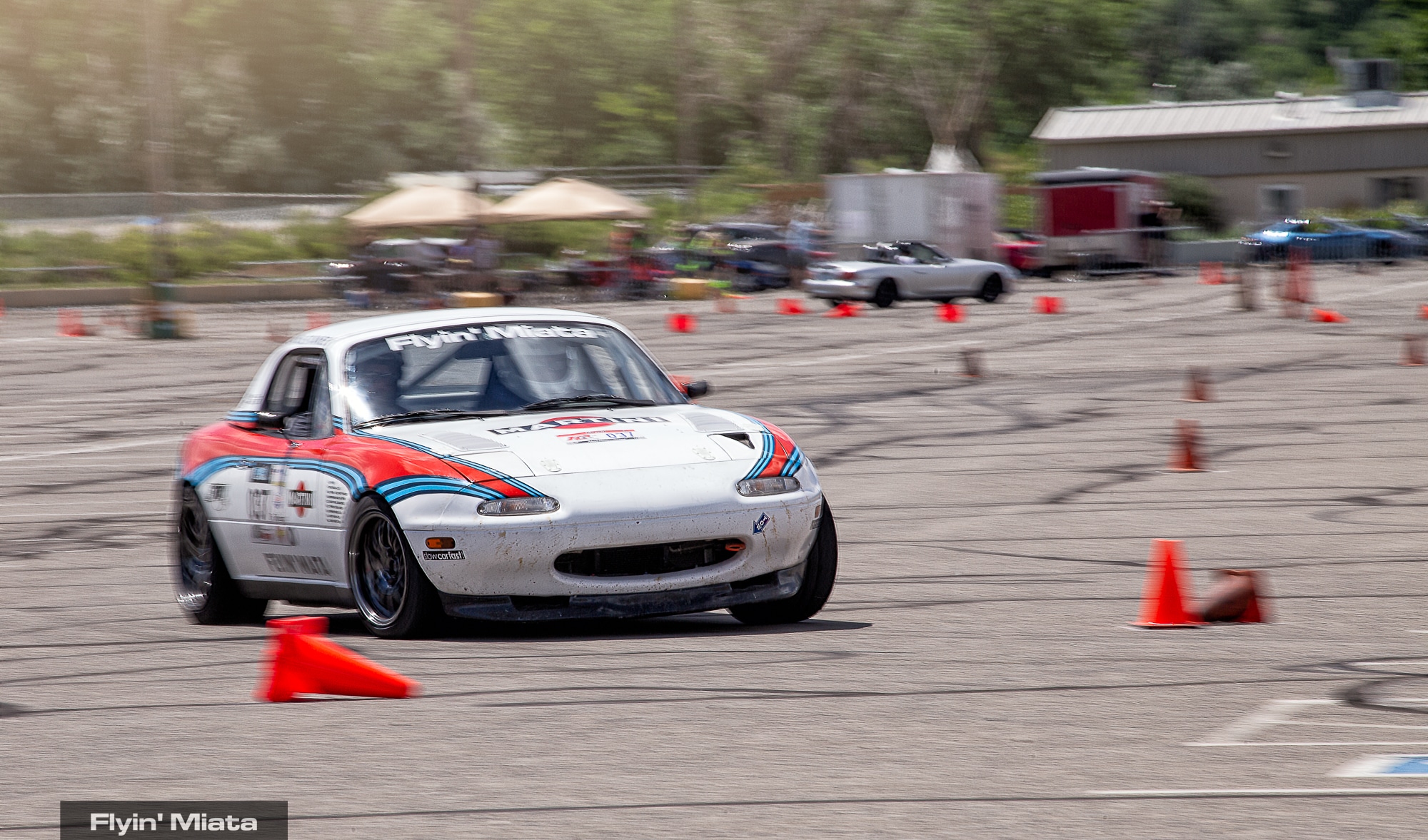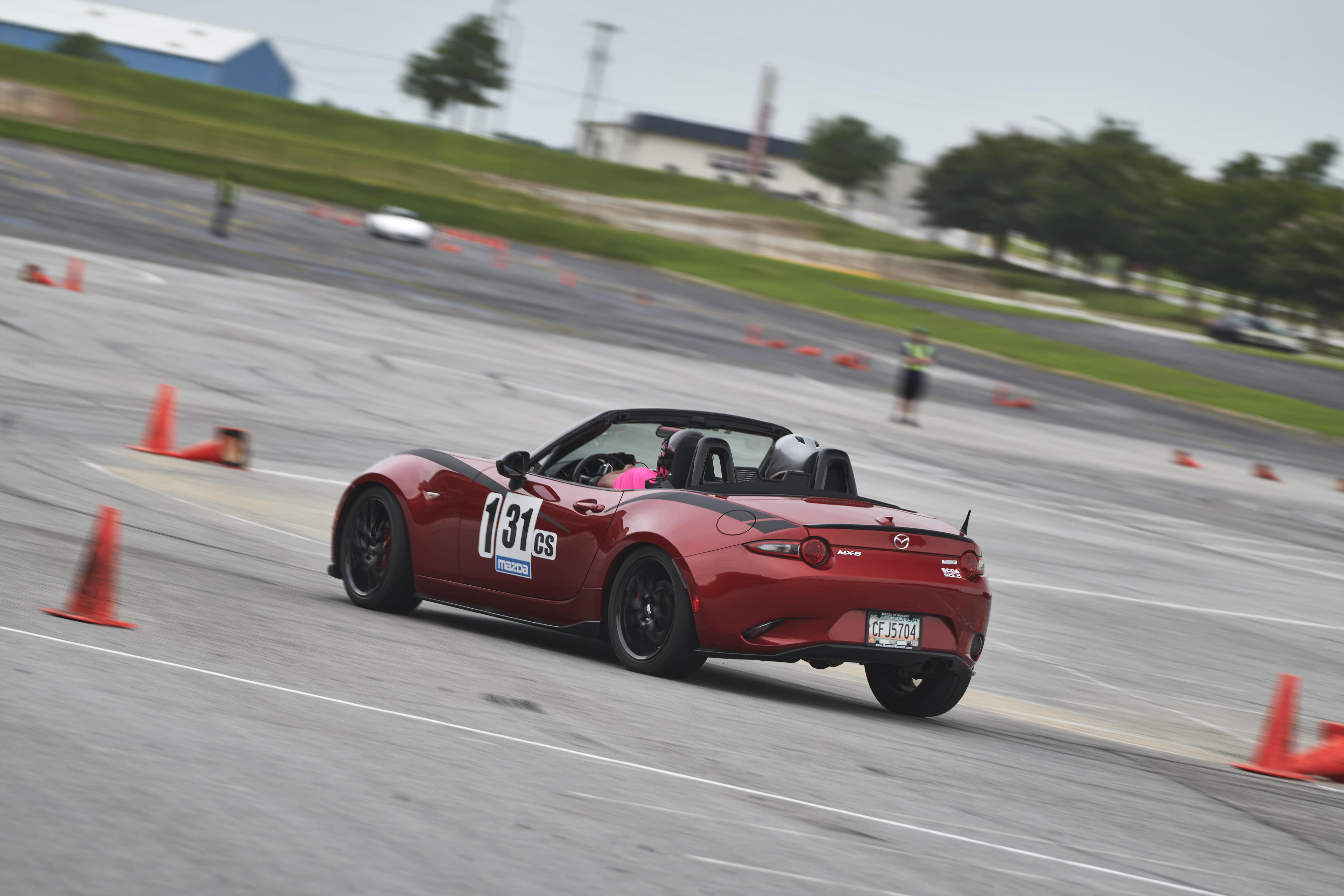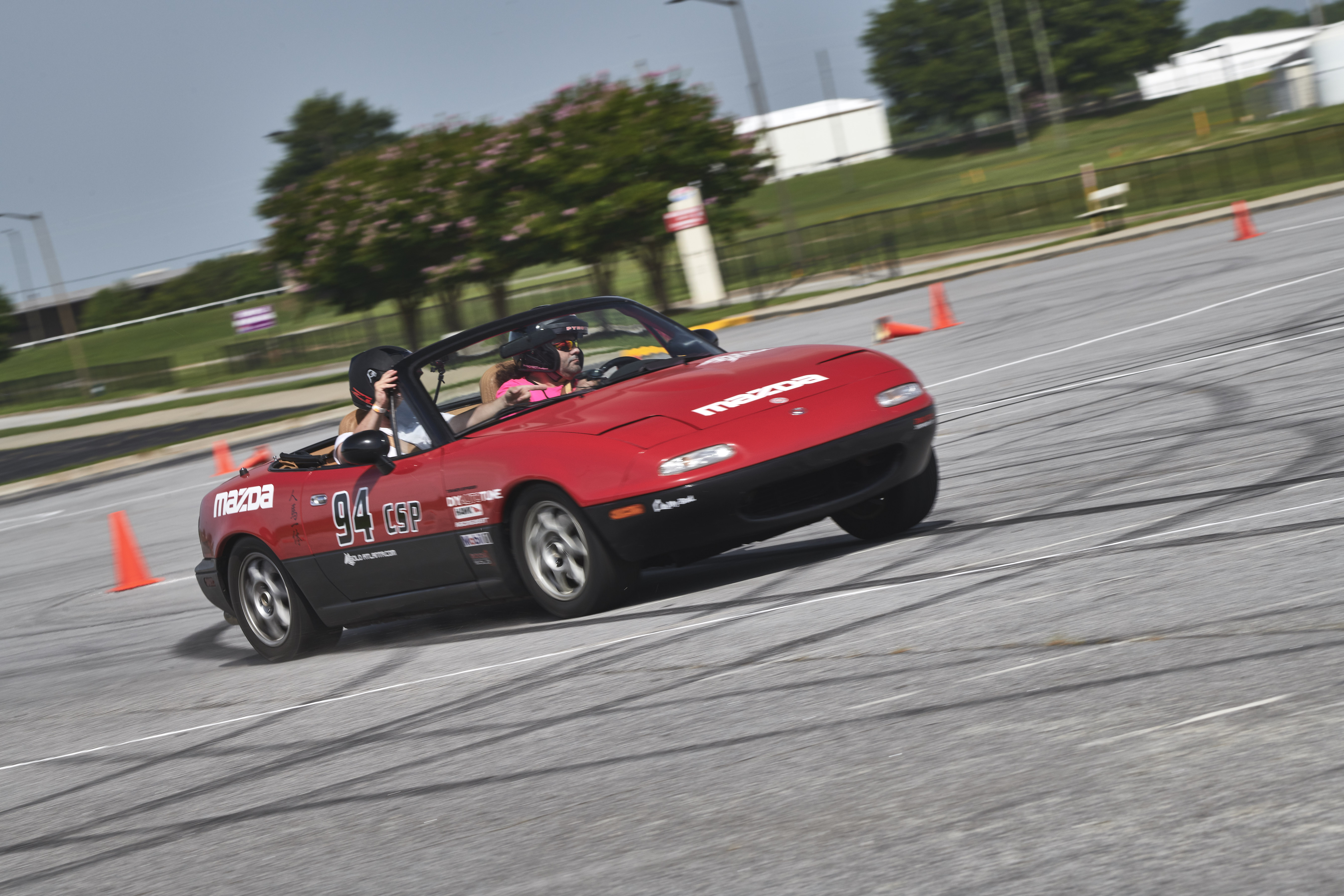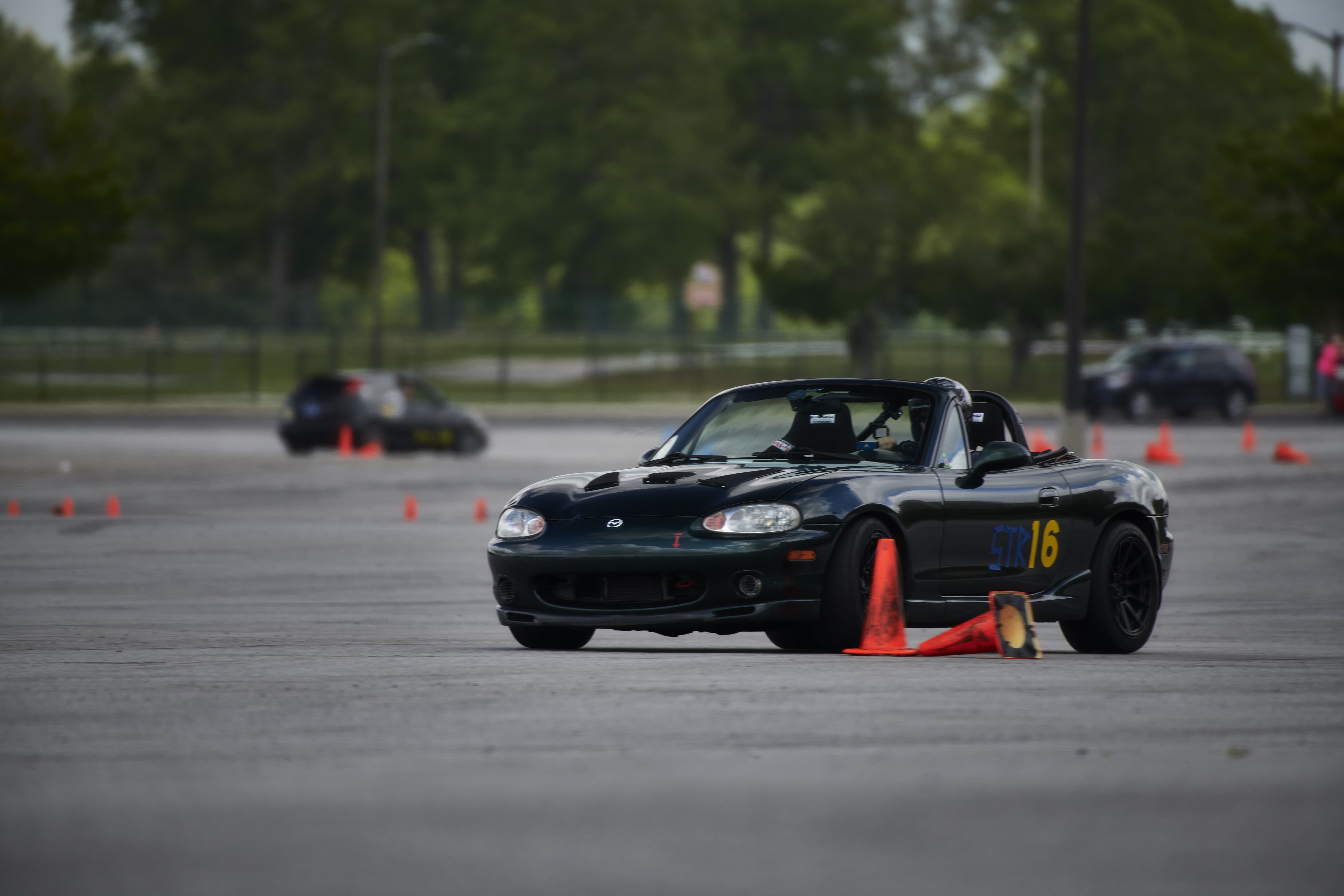 As always, our friends at Flyin' Miata want to offer you a unique and memorable driving experience at the Miata Reunion. This isn't just a humdrum "let's make an autocross course in a mall parking lot" but the real deal, designed to test the skills of even the most experienced autocrossers!
The Flyin' Miata AutoX Challenge is open to all skill levels and provides drivers a controlled environment to test and develop your car control skills. 
No roll bar or other special safety equipment required, however drivers and passengers must wear a helmet. (Loaner helmets available).


Schedule for both Saturday  & Sunday
8:00am driver's meeting and course walk
9:00am to 5:00pm drive!  (break for lunch)
Cost: $80 per day/driver. Each driver will get 10 to 15 runs for the day.
Procedure:
Start the morning with a driver's meeting that will cover format, objectives, course description and basic safety.  A group course walk will follow to review safe, controlled driving procedures.
Each group will alternate back and forth between "run and work" for the remainder of the day.  Workers will maintain track safety and replace hit cones.
Typically, drivers will get between 10 and 15 runs for the day.
Flyin' Miata will be awarding prizes for the 3 Top Times of the Day!!!
Limited to 60 drivers.
For insurance reasons, all Flyin' Miata AutoX Challenge drivers and passengers must have signed all event waivers and have General Admission wristbands.
HPDE TRACK DAYS PASSENGER RIDES
SATURDAY GROUP PHOTOS & VIDEO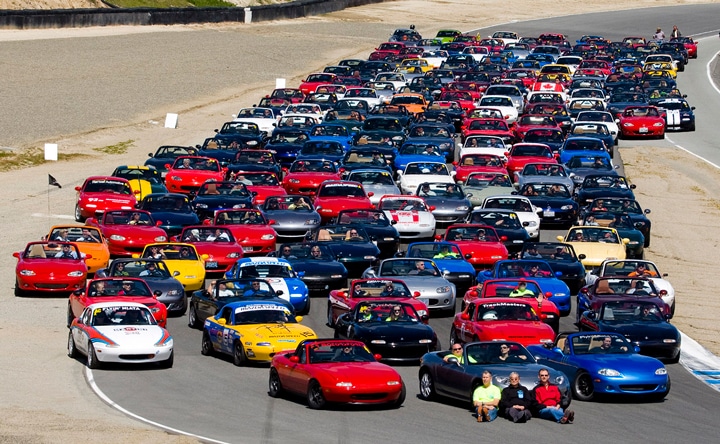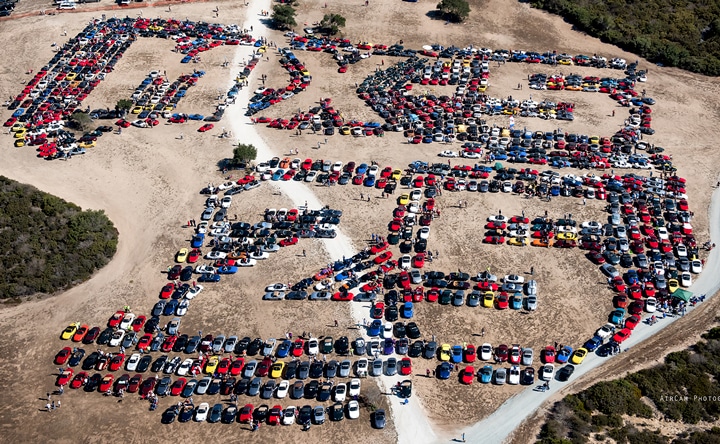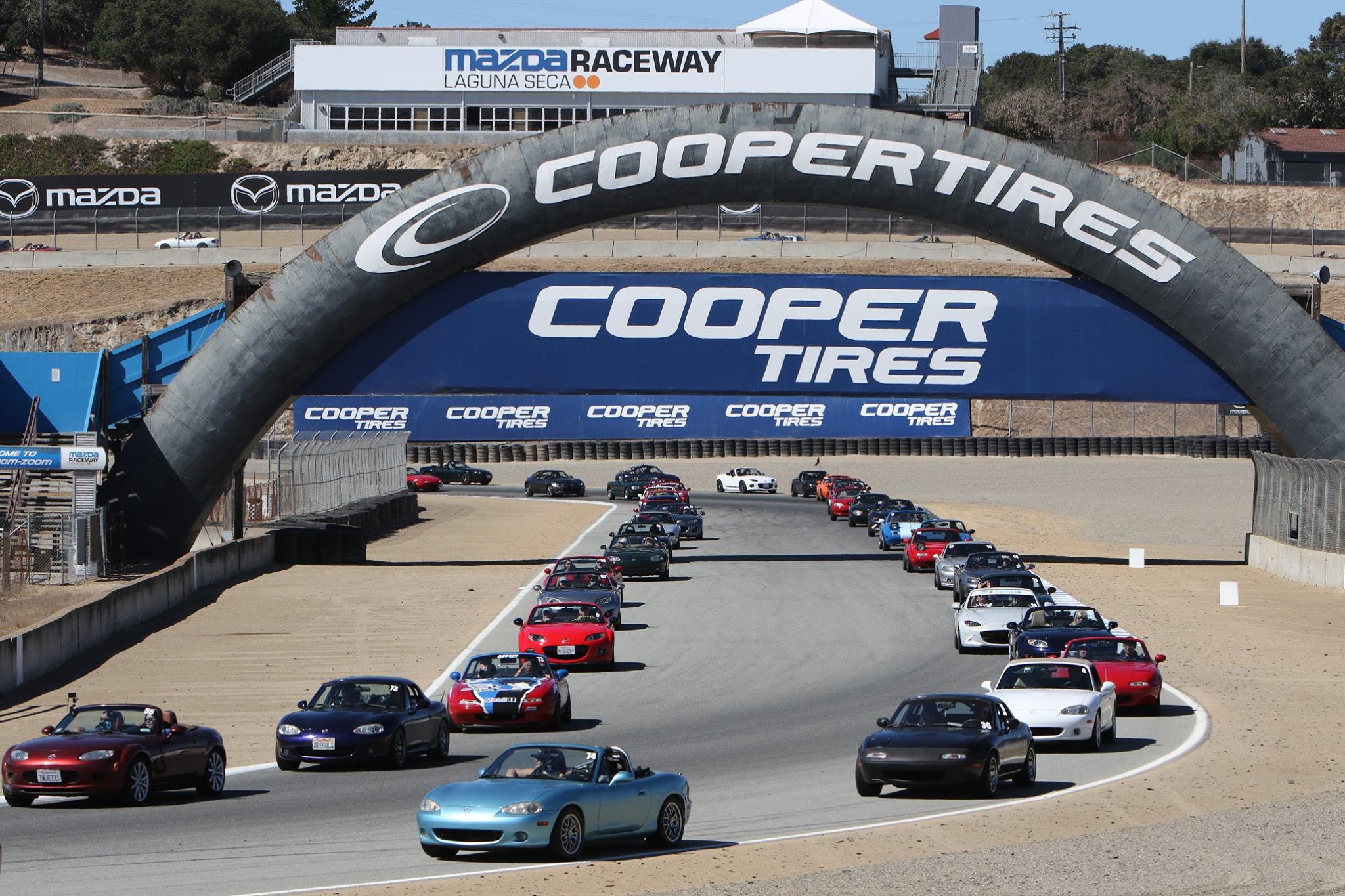 We'll be setting up a group photo and video of you on track during Parade Laps.
It will include still photos, aerial photography and video of the Parade Laps.
Miata Reunion Group Photos and Video are included for free as part of your General Admission, and will be posted on our Facebook page after the event.
Watch Parade Laps and other videos from previous years at the Miata Reunion Youtube channel.
OPTIONAL ADDITIONAL PROFESSIONAL PHOTOS
FOR PURCHASE
Want a photo of you driving your Miata on track during Parade Laps?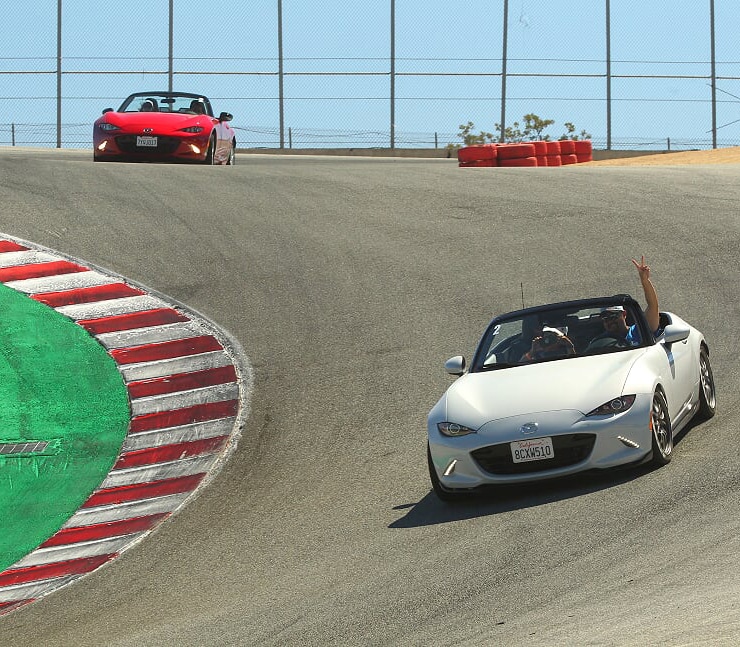 Our official event photographer GotBlueMilk will be there shooting all weekend, including Parade Laps.
Dito and his team are professional motorsports photographers who really know how to make you and your Miata look great on track. 
You can see his work at the GotBlueMilk website, where you can learn more and contact them to  pre-book to ensure your Miata gets photographed.

WHERE TO LINE UP FOR PARADE LAPS
PARADE LAPS & GROUP PHOTO STAGING
Parade laps Procedures
Starting at noon, please proceed to your Miatas to start the pre-staging for Parade Laps.
If you are in general Miata Parking
We need you to line up along the outer edge of the parking area, going along the outer edge in a clockwise direction (see white arrows on the diagram). When we are ready to move you down to the main staging area, our staff team will direct you down the hill and onto the hot pit lane for final staging.
If you are in the Clubs Corral
Volunteers will direct you out of the Corral exit, where you will proceed up the center access road, then follow directions of our team directing you down the hill to the left into the hot pit lane for final staging.
If you are in HPDE Driver parking in the paddock
Proceed through the normal Hot Pit entrance you have been using, where one of our team will guide you to the final staging area.
Parade Laps/Drone Videos
In the hot pits, our team will guide you into two lines, side by side, to hold for final staging. When you are released, you will go out on track in two lines, side by side. For everyone's safety, please stagger your lines to give space between you and the car next to you (think of a zipper).
At the end of the first lap you will be held at the Finish Line for the final group video/photo shoot. Please park side by side as neatly as possible as these will be the "hero" photos and videos. You can get out of your cars if you like and wave at the drone, and get some of your own photos/videos.
Once released from this location, you'll proceed around the track again to the Turn 10 exit, where our team will guide you off so you can return to your original parking areas.
PLEASE KEEP MOVING AS MUCH AS POSSIBLE AFTER YOU EXIT, AND HEAD STRAIGHT TO YOUR PREVIOUS PARKING AREA, OTHERWISE WE'LL HAVE A HUGE TRAFFIC JAM CAUSING DELAY FOR OTHER ACTIVITIES.
If you would like to purchase a professional souvenir photo from GotBlueMilk (their trailer is in the paddock) make sure to go to their trailer and get a number to put on our windshield (this is free of charge) to make it easier to identify your car when you get your photos.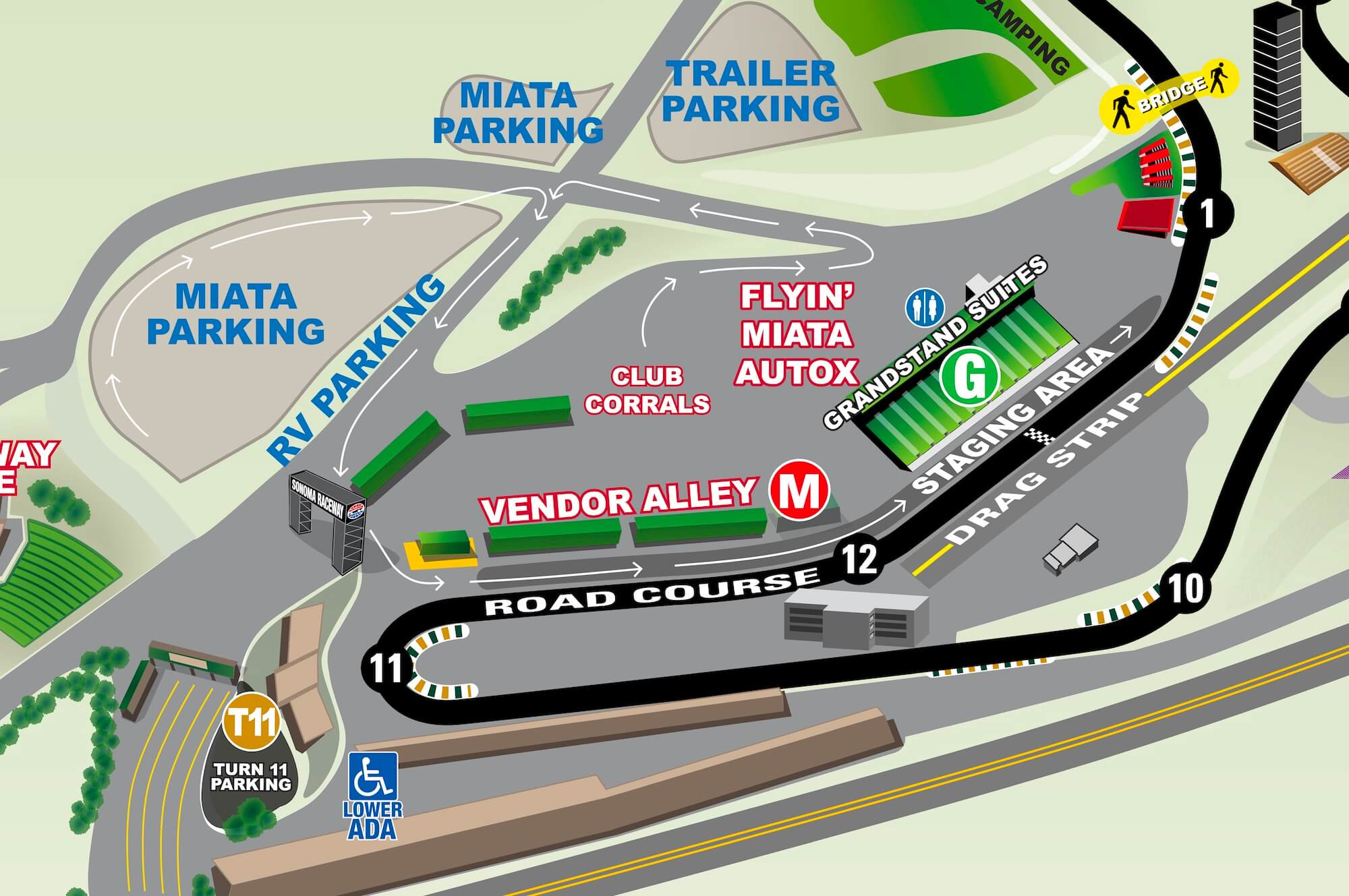 FRIDAY 20 OCTOBER FROM 3:30 pm to 7:00 pm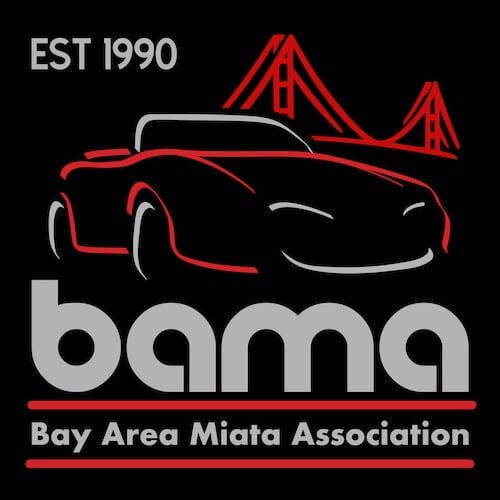 Join a group of Miatas for BAMA'S Meander Thru Marin, a guided drive through this breathtaking area, designed and hosted by people who know the area the best:

The Bay Area Miata Association!

Registration opens May 27th at 9am Pacific
via the REGISTER button (top right of the page)

Meeting point and route TBA

Per insurance requirements, driver and passenger must have
General Admission registration wristbands & have signed all waivers.

Space has been opened up to TWO GROUPS of 50 cars -- thanks BAMA!
FOOD & BEVERAGE
The Sonoma Raceway Cafe in the paddock 
will be open all weekend 
PLAN YOUR TRIP/FIND YOUR WAY AROUND
LOOKING FOR HOTELS AND TRAVEL INFO?
COMPLETE FACILITY MAPS?
MAIN EVENT SCHEDUE?